See here the testimonials of patients who have obtained positive results after consultations with Dr. Sara Barreirinhas as well as through the recipes they have obtained in the ebooks.
AUTOIMMUNE DISEASES, INTESTINAL DISEASES AND TRAVELLERS' NUTRITION
Inês Silva
Speech Therapist
I had a Traveller's Nutrition consultation with Dr Sara and it was thanks to this that, even with IBS, I was able to travel more easily.
Everything went very well and fortunately I had no significant symptoms, following to the letter the orientations and tips that Drª gave during the consultation; they were indispensable.
This consultation had a very positive impact on my confidence to travel again in my condition!
Thank you so much for everything Dr. Sara, I can no longer do without Nutrisciente in the future!!!
Nilza Trigueiros
Play time coordinator
Talking about my consultations with Dr. Sara is very easy and pleasurable. She is a sweetheart. My connection with her was immediate. Although the consultations are online, the energy and vibe of the face-to-face is always present.

I found Dr Sara when I needed and expected her and it was the best thing that could have happened to me. (..)
Leena Mira
Medical Student
I started following up at Nutrisciente after being diagnosed with Irritable Bowel Syndrome. At that time I felt bad every other day. I couldn't understand why foods I had always eaten were suddenly so bad for me, I started to be afraid of eating. I went to a gastroenterologist's appointment where they told me about the low FODMAP diet.

After some research I realised it wouldn't be an easy process, so I decided to seek specialist guidance. I made an appointment with Sara, a nutritionist, and everything changed. I was guided through all the phases of the diet, all my doubts were clarified, the fear of eating passed, the bouts of discomfort diminished (I knew what to avoid!) and hope increased (I knew what to eat!).

Despite the slow process, the results have paid off, I now know my body and I feel better. At Nutrisciente there is truly a follow-up, where all the steps are taken together!
Isabel Fiorenzo
Kindergarten Educator
With Crohn's disease, when I started the consultation I weighed 47kg. Sara, the nutritionist, listened carefully to my medical history and explained how a suitable plan could help me.

Na altura nunca tinha pensado que uma Nutricionista me poderia ajudar... Como estava enganada! Este acompanhamento foi determinante para a minha recuperação.
Francisco Espada
Operational Assistant
For many years I have wanted to be accompanied by a specialist in the field because I have always "known" myself to be overweight and obese, yet I have never had the courage to take the first step and come forward.

I don't believe in fate, but I don't think it was by chance that Sara crossed into my life. I'm sure I met the right person to accompany me and do this marathon.

I started with 100.5 kg in January 2021 and this moment I am at 82.4 in June. I'm proud of what we've done and covered together, it's been great teamwork and we aspire even more for what's to come.

Anyone who knows Sara knows that she always has a smile to offer in a consultation or everyday conversation, so her work goes far beyond just talking about weight. I see Sara as a "confidante", a person who will pull for anyone who crosses her path that she can help. Sara is always ready to give her opinion and contribution, she is a good listener and very assertive. Don't have any doubts about who you walk with, choose Barreirinhas 😄"
Carmen
Teacher
I chose to be healthy and take care of myself. I found in Sara's consultations the help I needed to understand the ups and downs that happen in everyone's life, but that with me are related to food.

During the consultations and between sessions I have established daily routines in my life, which have progressively resulted in a better lifestyle, including diet.

I understood my choices better and without restrictions or punishment I am learning to eat properly. Thank you Sara!
Enikö Nyizsnyik
Product Manager
I have been struggling to lose weight for several years and was walking on the yoyo effect.

I have consulted different nutritionists over the years but none of them seemed to work. Until I started working with Sara. From day one I have felt at ease in our consultations and have been able to stop feeling embarrassed and guilty whenever the results didn't meet my expectations.

Sara is very mindful of her clients' psychological state, and understands that our habits are seriously affected by our emotions. I started to enjoy eating again and become more conscious of my food choices.

If you are looking for a nutritionist who is not only professional, but also truly dedicated to your success, then Sara is the perfect choice for you.
Helena e Marcelo Campello
Advertiser & Administrator
Dr. Sara helped us with our daughter Cecilia, who wanted to become a vegetarian. With a lot of empathy and knowledge, Dr. Sara elaborated a diet plan and indicated different sources of recipes, in books and websites.

It was a win-win for the whole family, as we had no idea about the benefits of vegetarian food.
And so we also became patients of Dr. Sara!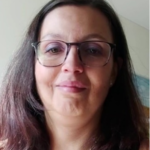 Maria Ambrosina Silva
Secondary school teacher - French
My journey towards a vegetarian diet started because of my body's intolerance to meat consumption.

I didn't eat red meat then, or very rarely. From then on, I searched for information, I thought I couldn't make the leap alone, because I wanted to learn how to eat properly, but without using animals and also without vitamin deficiencies. As I became a member of Associação Vegetariana (Vegetarian Association) and Dr Sara Barreirinhas had a protocol, I booked a consultation and asked all my doubts.

From then on, with Dr. Sara's guidance my transition was very smooth and it didn't cost me anything, as I had already made my choice. In fact, I've been discovering new flavours and I have a much more refined palate. And, obviously, I know that if I have any difficulty or doubt, I'll have Dr. Sara at my distance on whatsApp. As in everything, change has to start within us.
Nilza Trigueiros
Play time coordinator
(...) I have been learning a lot about food, especially the difference between what is organic, gluten-free and healthy not being applicable to all people.

Most important of all is knowing how to nourish my body daily with what it can tolerate. And this is what Dr Sara teaches us.

The oat bread recipe from Dr. Sara's e-book saves my days! Finally I could, can and will eat bread without feeling sick! Thank you very much Dr!