My mission is to improve the lives of all those people who, like me, are not defined by a weight, by an illness, but by the joy of living, well-being and health.
CONSCIOUS WEIGHT LOSS
Have you been trying for a long time to lose weight and not succeeding?
Do you feel that your emotions affect your food choices?
When you arrive at an appointment with the aim of losing weight, do you expect a diet plan to be prescribed for you to follow to the letter and achieve your goal? It doesn't always work out that way for everyone. Adherence to the diet plan depends on many factors. From your family and work environment, the way you take care of yourself, your body, your mind and especially your EMOTIONS. Have you ever found yourself not feeling hungry and only consuming food products to fill a need of irritation, frustration or even sadness?
The way we perceive and manage our emotions, in general, says a lot about our life. Especially our daily diet, the way we take care of our body and our nutritional state.
In the nutrition consultation we don't just work on a physical issue, but on an integral form of body, mind and emotions.
VEGETARIANISM
Are you a vegetarian and have difficulties in structuring your meals?
Are you afraid of having nutritional deficiencies?
The demand for a plant-based diet has been increasing more and more in recent years. Only between 2007 and 2019 the number of vegetarians has quadrupled in Portugal. However, there are still many doubts about how to start, how to adapt the plate, how to avoid nutritional deficiencies, how to make the diet more diverse, what supplements to take, etc. At the nutrition consultation we do everything to make your transition as practical and nutritionally adequate as possible.
AUTOIMMUNE AND INTESTINE DISEASES
Do you have difficulty understanding what foods you can and cannot include in your meals?
Do you want to feel freedom and pleasure in your meals?
Gastrointestinal diseases such as Irritable Bowel Syndrome, Crohn's Disease, Ulcerative Colitis, Celiac Disease, among others, deserve special, individualised attention. Among many other symptoms, these diseases have in common an essential factor for our body: the poor absorption of nutrients. This implies a new dietary re-education and the restriction of some foods/nutrients, especially during the active phases.
Nutrisciente offers a differentiated service on the market, individualised and adapted to all users with gastrointestinal pathology.
In the light of scientific evidence, other autoimmune diseases such as fibromyalgia, ankylosing spondylitis, hypo- and hyperthyroidism can also benefit from nutritional monitoring.
TRAVELER NUTRITION
When you travel, do you feel insecure when you choose to have a meal in a restaurant?
Are you afraid that trying new dishes or foods will not allow you to enjoy the trip?
When there are special dietary needs, such as an Inflammatory Bowel Disease or with food intolerances and/or allergies (among other situations), there is an added fear of eating out. When we talk about travelling to other countries, with different gastronomic cultures, more insecurity in meals and catering exists. For this reason, Nutrisciente has created the Traveller's Nutritional Consultation, a personalized service for all travellers with dietary restrictions, which will serve as support for the preparation of any trip, ensuring greater security so that food is not a concern in your holidays and leisure periods.
Through our partnership with From the World with Sara, you can book your trip here and find out which destinations are best for you.
NUTRITIONAL CONSULTING FOR RESTAURANTS
Do you avoid eating in restaurants because you don't feel safe?
Do you have difficulty with the list of ingredients?
We offer support in the preparation of dishes and menus, food labeling and training for catering staff in order to ensure not only the quality of meals, but also specific and appropriate food safety for intestinal pathologies (celiac disease, inflammatory bowel diseases, irritable bowel syndrome) and vegetarian meals.
In this service:
- We prepare technical sheets;
- We provide training in food safety;
- We make employees aware of gastrointestinal diseases and vegetarianism;
- We check the list of allergens and the nutritional quality of the meals;
- We guarantee the suitability of meals for intestinal diseases.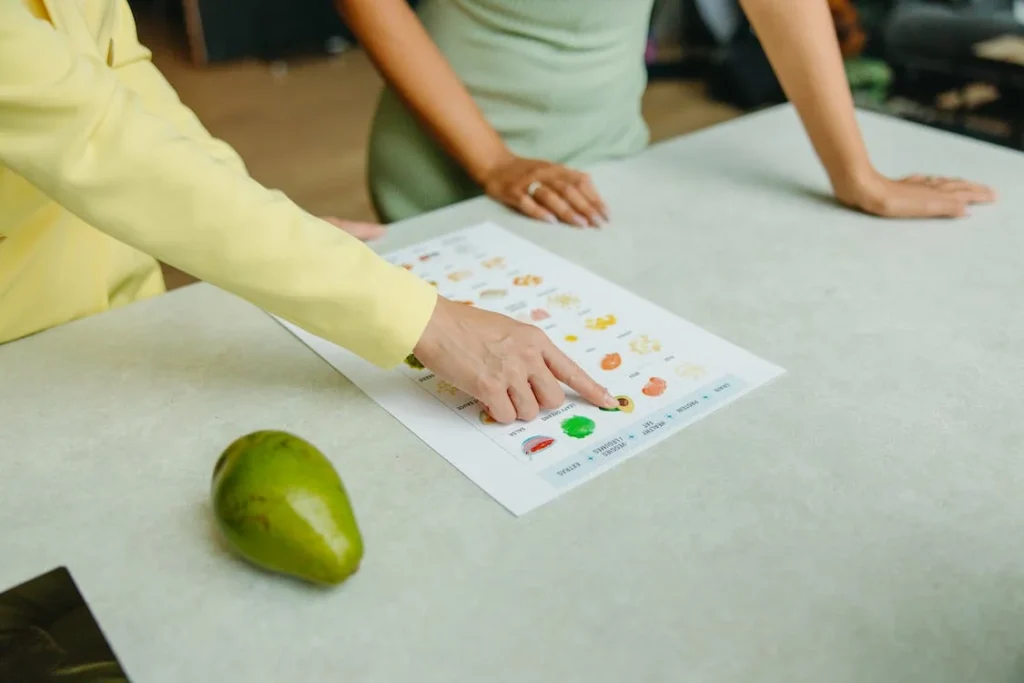 WORKSHOPS AND TRAINING
Do you want to motivate your employees to improve their diet?
Are you a training organization?
We prepare all the content for various training sessions, workshops and showcooking in the area of nutrition, whether it's to improve the knowledge of your company's employees or for trainees interested in taking part in training courses on Nutrition and Food.
Some of the topics we've already covered might interest you:
Workshops: reading labels, healthy eating and cooking, food for weight loss, planning everyday meals, food and mental health, food myths;
Showcooking: vegetarian food, slimming recipes, using up leftovers, healthy Christmas and summer recipes;
Training: examples of UFCD already carried out 4665 and 8298.
Training or workshops can be held either online or in person. The duration and value of the training you want is determined by your first contact with the company.
In this service:
- We coordinate the contents of various UFCDs with training providers;
- We plan all the content and resources for the Workshop and Showcooking;
- We prepare information material (slides, leaflets, brochures, etc.).
Areas of expertise:
– Conscious weight loss;
– Vegetarianism;
– Autoimmune and intestinal diseases;
– Traveller nutrition;
– Consultancy for companies;
– Training and workshops.